When:
Tuesday, March 20, 2018 -

7:00pm

-

9:00pm
Where:
Landis Cinema, Buck Hall - 219 N. 3rd St.
Presenter:
George Panichas (Philosophy) & Karina Skvirsky (Art)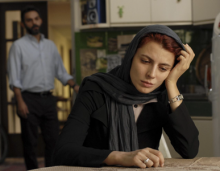 A SEPARATION (dir. Asghar Farhadi, 2011, 123 min.) is a complex Iranian drama focusing on difficult choices. Simin (Leila Hatami) hopes to relocate her family to offer her daughter a better life, but her husband Nader (Peyman Moaadi) will not leave Iran and his ailing father. The couple separates and Nader hires a caretaker, with devastating results. Winner of numerous awards including a Best Foreign Language Film Academy Award, the film explores issues of gender, class, justice, compassion and honor, as this secular middle-class family faces both internal challenges and unexpected conflict with an impoverished religious family.
Come once, or come every week. Tuesday nights at 7:00 in the Landis Cinema, Buck Hall.
Shuttle bus service to/from College Hill. All are welcome. Open to the Public. Popcorn. Free.
Contact information
Link for More Information: