When:
Tuesday, April 17, 2018 -

7:00pm

-

9:30pm
Tuesday, April 24, 2018 -

7:00pm

-

9:30pm
Tuesday, May 1, 2018 -

7:00pm

-

9:30pm
Where:
Landis Cinema, Buck Hall - 219 N. 3rd St.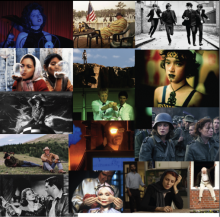 Come join us Tuesday nights in the Landis Cinema for a unique film series and engaging conversation. Every week a different faculty member will host a screening of one of their favorite films, followed by casual conversation. What are the films that faculty can't live without? What makes it onto a professor's personal favorites list? Faculty from 14 different departments across campus will offer a diverse line-up of screenings throughout the semester.
COME ONCE, or COME EVERY WEEK.
Shuttle bus service to/from College Hill.
All are welcome. Open to the Public. Popcorn. Free.
DATE                        FILM SCREENING                                                       FACULTY HOST

T January 23            Dr. Strangelove or: How I Learned to Stop               Joshua Smith, Mechanical Engineering
                                 Worrying and Love the Bomb (1964)
T January 30            A Hard Day's Night (1964)                                           Liz McMahon, Mathematics
T February 6            Blue Velvet (1986)                                                        Kevin Vogrin, CD
T February 13          Schultze Gets the Blues (2003)                                  Margarete Lamb-Fafelberger, German
T February 20          The 100 Year-Old Man Who Climbed                        John Drummond, Biology
T February 27          The Last Angel of History (1996) &                            Bill Bissell, Anthropology & Sociology
                                 Pumzi (2009)
CANCELED           Whale Rider (2002)         CANCELED                         Chris Phillips, English
T March 20              A Separation (2011)                                                     George Panichas & Karina Skvirsky,
                                                                                                                       Philosophy & Art
T March 27             Children of Heaven (1997)                                           Greta Bergstresser, Art & ITS
T April 3                  Primer (2004)                                                                Justin Hines, Chemistry
T April 10                Downfall (2004)                                                             Rado Pribic, FLL
T April 17                Brazil (1985)                                                                  Suzanne Westfall, Theater
T April 24                Brokeback Mountain (2005)                                        Pat Donahue & Ian Smith, English
T May 1                  Only Angels Have Wings (1939)                                 Jason Simms, ITS