When:
Tuesday, January 23, 2018 -

7:00pm

-

9:30pm
Where:
Landis Cinema, Buck Hall - 219 N. 3rd St.
Presenter:
Joshua Smith - Mechanical Engineering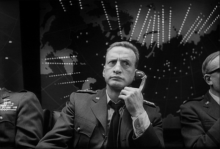 DR. STRANGELOVE OR: HOW I LEARNED TO STOP WORRYING AND LOVE THE BOMB (dir. Stanley Kubrick, 1964, 94 min.) One of sharpest, darkest, funniest films since thesplitting of the atom, Kubrick's brilliant satire of nuclear anxiety remains frighteninglyrelevant more than a half century after its release. The question of what might go horriblywrong gets played out with terrible plausibility by a multiple choice of crazy characters,with inspired performances from George C. Scott, Sterling Hayden, and Peter Sellers, whoplays 3 different roles, including a president who does not inspire confidence.
Contact information
Link for More Information: