When:
Tuesday, May 2, 2023 -

4:10pm

-

6:00pm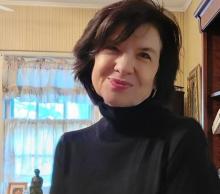 Lee Upton is the author of fifteen books, including The Day Every Day Is (2023), winner of the Saturnalia Poetry Prize; two short story collections; an award-winning novella, The Guide to the Flying Island; an essay collection; and six additional books of poetry and four books of literary criticism.  Her first collection of stories, The Tao of Humiliation, received starred reviews from Kirkus and Library Journal as well as strongly positive reviews from The New York Times, Publishers Weekly, and Booklist.  Kirkus selected the collection for their listing of "The Best Books of 2014," one of eleven collections in the short story category that included titles by international authors, among them Alice Munro and Hilary Mantel. Her second collection of short stories, Visitations, was listed in "Best of the Indies 2017" by Kirkus. Her poetry has appeared in numerous anthologies and in three editions of The Best American Poetry as well as in The New Yorker, The New Republic, American Poetry Review, The Atlantic, and other magazines.  Her awards include the Pushcart Prize; the Open Book Award; the Lyric Poetry Award and The Writer/Emily Dickinson Award from the Poetry Society of America; the Miami University Novella Prize; and Book of the Year Award in the category of books on writing from Foreword Review for Swallowing the Sea: On Writing and Ambition, Boredom, Purity and Secrecy. www.leeupton.com
Leslieann Hobayan is a poet, essayist, priestess, and host of the podcast, Spiritual Grit, a showat the intersection of spirituality and activism. Her chapbook, Divorce Papers: A Slow Burn is forthcoming from Finishing Line Press, Spring 2023. Nominated for a Pushcart Prize and a 2018 Best of the Net, her work has appeared in The Rumpus, Aster(ix) Journal, The Grief Diaries, The Lantern Review, The Mom Egg Review, The World I Leave You: Asian American Poets on Faith and Spirit, and elsewhere. She has been awarded the James Merrill Fellowship for Poetry at the Vermont Studio Center, a Mid-Atlantic Arts Foundation writing fellowship for a residency at Millay Colony for the Arts, a fellowship for the Virginia Center for the Creative Arts, and artist grants for Community of Writers, the Bread Loaf Orion Environmental Writers Conference. Currently teaching at Rutgers University, she's also a spiritual life coach for women of color, a yoga & meditation teacher, a tarot reader, and facilitates sacred healing circles for people of color. Leslieann graduated from Lafayette College in 1995.