When:
Wednesday, April 21, 2021 -

1:15pm

-

2:30pm
Thursday, April 22, 2021 -

3:00pm

-

4:15pm
Wednesday, April 28, 2021 -

1:15pm

-

2:30pm
Presenter:
Amauri Gutiérrez-Coto, Annie de Saussure, Wendy Wilson-Fall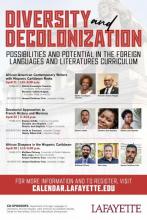 Please join us for a guest lecture series on diversity and decolonization in the Foreign Languages & Literatures Curriculum. This lecture series brings together Francophone and Hispanic scholars and authors to discuss the histories and literatures of the African diaspora in the French and Spanish-speaking Caribbean. The two panels in Spanish explore the teaching of Africana Diaspora from author and scholar perspectives. These panels about the Spanish-speaking Caribbean Africana Diaspora are part of the course "Span 347: Afro-descendant writers in the Spanish Caribbean" taught in Spring 2021 by Professor Gutiérrez-Coto. The Francophone Panel explores the relationship between colonial history and postcolonial memory in Francophone Caribbean literature. Francophone scholars will discuss how cultures and literatures of the African diaspora are still too often forgotten and written out of French national memory and the literary canon. The panel engages directly with the topic of Professor de Saussure's seminar, "Fren 441: Myths, Monuments, and National Memory," taught in Spring 2021.
Registration and Speaker Information
Panel 1- African-American Contemporary Writers with Hispanic Caribbean roots
Odette Casamayor-Cisneros (UPenn), Fernando Valerio Holguin (Colorado State University)
Date: April 21, 2021 at 1:15 pm – 2:30 pm
Moderator
Amauri Gutiérrez-Coto (Assistant Professor of Spanish-FLL)
Zoom link: https://lafayette.zoom.us/j/98369964730?pwd=OWpuN2l0ZWVsVk54dk1VaWY3V3hkUT09
Meeting ID: 983 6996 4730
Passcode: spanish316
Panel 2 - Decolonial approaches to French History and Memory  
Etienne Achille (Villanova University), Claudine Jean-Baptiste (CUNY), Shanna Jean-Baptiste (Rutgers University). 
Moderators 
Annie de Saussure (Assistant Professor of French-FLL) and Wendy Wilson-Fall (Associate Professor of Africana Studies)
Date: April 22, 2021 from 3:00-4:15pm 
Zoom link : https://lafayette.zoom.us/meeting/register/tJErde-trDkpEtyJRZUbjEtLT94e8i3Ba4gS
Panel 3 - African Diaspora in the Hispanic Caribbean
Matthew Pettway (University of South Alabama), Nick Jones (Bucknell University), Amauri Gutiérrez-Coto (Lafayette College)
Date: April 28, 2021 at 1:15 pm – 2:30 pm
Moderator
Amauri Gutierrez-Coto (Assistant Professor of Spanish-FLL)
Zoom link: https://lafayette.zoom.us/j/98369964730?pwd=OWpuN2l0ZWVsVk54dk1VaWY3V3hkUT09
Meeting ID: 983 6996 4730
Passcode: spanish316
Sponsored by:
Department of Foreign Languages & Literatures, Africana Studies, Latin American & Caribbean Studies, Center for Humanities, Office for Intercultural Development