When:
Friday, April 16, 2021 -

12:15pm

-

1:45pm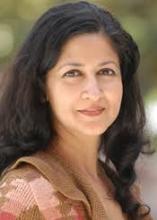 Prof. Priya Jaikumar
School of Cinematic Arts
University of Southern California
"Where Histories Reside"
This talk draws upon Prof. Jaikumar's recently published book, Where Histories Reside (Duke UP, 2019), which examines eight decades of films shot on location in India to show how attending to filmed space reveals alternative timelines and histories of cinema. In this "spatial" film historiography, Jaikumar outlines factors that shape India's filmed space, from state bureaucracies and commercial infrastructures to aesthetic styles and neoliberal policies. 
Priya Jaikumar is Professor of Cinematic Arts in the Division of Cinema and Media Studies. A historian and theorist of film, she has written on colonial cinemas, postcolonial theory, South Asian and European commercial, art and non-theatrical films, comparative modernities and aesthetics in film, critical theories of film history, place and space in cinema, film and cultural geography, and transnational feminism.