When:
Wednesday, October 21, 2020 -

7:00pm

-

9:05pm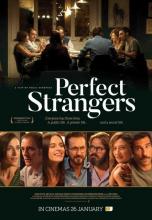 From Mexican director Manolo Caro (Netflix's The House of Flowers) comes the electrifying comedy about a seemingly simple dinner party. When a group of best friends gets together during a lunar eclipse to share an intimate meal in the tasteful house of Eva and Antonio, they suspect it's just another typical night, until the hostess proposes a game. All guests must lay their cell phones on the table and read aloud all incoming messages and answer all incoming phone calls in front of the entire group. What begins as a provocative party game quickly becomes a wild ride full of twists and "textual tension" in this over the top comedy about the secrets we all carry in our pockets.
Cecilia Suárez and Bruno Bichir lead a stellar ensemble of some of Mexico's most respected actors in this adaptation of Perfetti Sconosciuti by Paolo Genovese, the Italian film that has become a global sensation inspiring remakes in countries like Greece, Spain, China, and France among others.
Sponsored by:
Foreign Languages & Literatures
Contact information
Link for More Information: