When:
Tuesday, November 14, 2017 -

7:00pm

-

9:30pm
Where:
Landis Cinema, Buck Hall - 219 N. 3rd St.
Presenter:
Jennifer Talarico - Psychology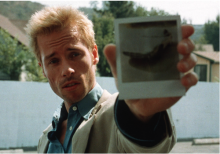 MEMENTO (dir. Christopher Nolan, 2000, 113 min.) is an astonishing neo-noir/ psychological thriller by Christopher Nolan, director of Dunkirk, Interstellar, Inception, and the Dark Knight trilogy. Leonard Shelby (Guy Pearce) suffers from anterograde amnesia—the inability to generate and retain new memories—which infinitely complicates his search to discover the truth behind the attack that left his wife dead and Shelby impaired. Seeking to gather and preserve enough new information to penetrate the mystery, he must rely upon unreliable characters, and string together notes and images that lead him to the next clue. Nolan's stylistic and narrative innovations relentlessly place the viewer squarely in Leonard's occluded and constantly eroding position.
Come once, or come every week. Tuesday nights at 7:00 in the Landis Cinema, Buck Hall.
Shuttle bus service to/from College Hill. All are welcome. Open to the Public. Popcorn. Free.
Sponsored by:
Andrew W. Mellon Foundation and Film & Media Studies
Contact information
Link for More Information: