When:
Wednesday, November 1, 2017 -

7:00pm

-

9:00pm
Presenter:
Williams Center for the Arts Performance Series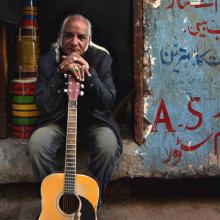 An award-winning documentary about The Sachal Jazz Ensemble that traces the group's journey from Pakistan to New York's Lincoln Center and asks whether there is still room for musicians in a society roiled by conflict. Watch the trailer below.
Members of The Sachal Jazz Ensemble will join us for a Q&A session immediately after the screening. And don't miss the group live in concert at the Williams Center for the Arts the following night, November 2 at 8 p.m.
Please note that the film screening will take place downtown, in Buck Hall's Landis Cinema, 219 North 3rd Street (at Snyder Street).
This is a free event, but tickets are required and can be obtained through thw Williams Center ticket office or online.
"Before Pakistan was known for rabid Islamists and its reign of terror in the Western world, it was known for its rich culture of art—particularly music. Lahore was the landmark of Pakistani culture, housing musicians, artists, writers, poets and painters for thousands of years, until the late '70s when Pakistan's political atmosphere shifted drastically to become one of an Islamic republic. Since then, most art, but particularly music, has been considered sinful and as a result, Pakistan's once-rich culture of art has diminished. But it hasn't completely died, as Song of Lahore reminds us; it's simply changed from being people's careers to becoming a passionate hobby, but the culture thrives on with one generation passing their knowledge on to the next and even attracting new audiences by mixing in traditional sounds with modern ones.
"Song of Lahore follows a group of traditional Pakistani musicians from Lahore as they come together and create their own studio, calling themselves the Sachal Studio Jazz Ensemble. Playing covers of classic jazz songs from the greats, the band gains popularity when they're featured on BBC News, which in turn leads to their being invited to play with Wynton Marsalis's band at Jazz at Lincoln Center"
—Sarah Khan, Toronto Film Scene
Sponsored by:
Tapestries: Voices Within Contemporary Muslim Cultures
Contact information
Name:
Williams Center for the Arts
Email:
williamscenter@lafayette.edu
Link for More Information: