When:
Tuesday, October 3, 2017 -

7:00pm

-

9:30pm
Where:
Landis Cinema, Buck Hall - 219 N. 3rd St.
Presenter:
Mary Armstrong - Women's & Gender Studies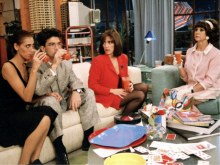 WOMEN ON THE VERGE OF A NERVOUS BREAKDOWN (dir. Pedro Almodóvar, 1988, 89 min.) is a darkly comic melodrama/screwball farce, perhaps the greatest work yet by the great Spanish writer/director Pedro Almodóvar. Dumped by her boyfriend, actress Pepa (Carmen Maura) looks to end it all, when she is interrupted by friends and a chaotic series of events. Praising the social impact of Almodóvar's work, Elvira Lindo writes he "gave visibility to difference, to the unconventional people among us who until then had remained hidden. How wonderful it is to take in that spectacle and feel like a part of it, to leave the theater with the sense that you could satisfy your desires and not have to feel guilty, strange, or inappropriate."
Come once, or come every week. Tuesday nights at 7:00 in the Landis Cinema, Buck Hall.
Shuttle bus service to/from College Hill. All are welcome. Open to the Public. Popcorn. Free.
Sponsored by:
Andrew W. Mellon Foundation and FAMS
Contact information
Link for More Information: