When:
Tuesday, September 12, 2017 -

7:00pm

-

9:30pm
Where:
Landis Cinema, Buck Hall - 219 N. 3rd St.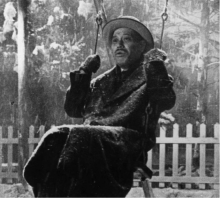 IKIRU (dir. Akira Kurosawa, 1952, 127 min.), one of the greatest humanistic films ever made, tells the story of Kanji Watanabe (Takashi Shimura) an aging bureaucrat whose sudden illness challenges him to find and create meaning in his life. Directed by Akira Kurosawa (known to American audiences largely as the master of samurai films), IKIRU ("To Live") is a stunningly compassionate exploration of death and what it means to be alive.
Come once, or come every week. Tuesday nights at 7:00 in the Landis Cinema, Buck Hall.
Shuttle bus service to/from College Hill. All are welcome. Open to the Public. Popcorn. Free.
Sponsored by:
Andrew W. Mellon Foundation and FAMS
Contact information
Link for More Information: