When:
Friday, September 15, 2017 -

4:00pm

-

6:00pm
Where:
Landis Cinema, Buck Hall - 219 N. 3rd St.
Presenter:
Prof. Jennifer Stoever - SUNY, Binghamton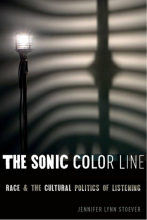 Prof Stoever will discuss several strands from her recently published monograph, The Sonic Color Line: Race and the Cultural Politics of Listening (2016, NYU). The Sonic Color Line argues that American ideologies of white supremacy are just as dependent on what we hear—voices, musical taste, volume—as they are on skin color or hair texture. Using an innovative multimedia archive spanning 100 years of American history (1845-1945) and several artistic genres—the slave narrative, opera, the novel, so-called "dialect stories," folk and blues, early sound cinema, and radio drama—The Sonic Color Line explores how black thinkers conceived the cultural politics of listening at work during slavery, Reconstruction, and Jim Crow. Stoever reveals a host of racialized aural representations operating at the level of the unseen—the sonic color line—and exposes the racialized listening practices she figures as "the listening ear."    
Jennifer Stoever is an associate professor in the Department of English, SUNY Binghamton, where she teaches courses on African American literature, sound studies, and race and gender representation in popular music. She is the author of The Sonic Color Line: Race and the Cultural Politics of Listening (2016, NYU). She is also the project coordinator for the Binghamton Historical Soundwalk Project--a multi-year archival, civically-engaged art project designed to challenge how Binghamton students and year-round residents hear their town, themselves, and each other--and Co-Founder and Editor-in-Chief for Sounding Out! / The Sound Studies Blog.
This event is free and open to the public. Generously funded by the Andrew W. Mellon Foundation.
Sponsored by:
Andrew W. Mellon Foundation and FAMS