When:
Monday, October 20, 2014 -

7:00pm

-

9:00pm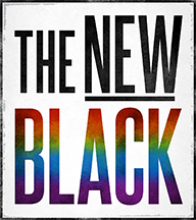 The New Black is a documentary that tells the story of how the African-American community is grappling with the gay rights issue and the fight over civil rights. The film documents activists, families and clergy on both sides of the campaign to legalize gay marriage and examines homophobia in the black community's institutional pillar—the black church. The New Black takes viewers into the pews and onto the streets and provides a seat at the kitchen table as it tells the story of the historic fight to win marriage equality in Maryland and charts the evolution of this divisive issue within the black community.
The film was written, directed and produced by Yoruba Richen, who will be with us for a post-screening discussion facilitated by Alex Hendrickson, Director of Religious & Spiritual Life and College Chaplain.
This event may qualify for the Intercultural Competency Certificate program.
Sponsored by:
Intercultural Development, Gender and Sexuality Programs, Religious & Spiritual Life, Religious Studies, Women's & Gender Studies, Africana Studies,
Contact information
Link for More Information: