When:
Tuesday, November 19, 2013 -

8:00pm

-

10:00pm
Where:
Williams Center for the Arts
Presenter:
Sound Alternatives Series
Price:
$25; students $6; LC staff/faculty $5; LC students FREE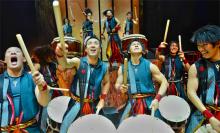 7:00 p.m. Pre-concert Talk by Professor of Music Larry Stockton Long a favorite with Williams Center audiences, Yamato was founded by Masa Ogawa in 1993 in Nara, "the land of Yamato," said to be the birthplace of Japanese culture. Now based in Asuka Village, Yamato travels all over the word with Japan's traditional Wadaiko drums, putting its very souls into the unusual instruments, whose sound stirs the hearts of people everywhere. The young musicians of Yamato think of the sound of the drums—made from animal skin and ancient trees, some more than 400 years old—as a pulse or heartbeat (Shin-on), the center of life and the source of power which pulsates within the human body. Like the strong and sturdy heartbeats of a lonely runner with a sleek and powerful body, Yamato attempts to create the energy of life, which envelops the audience and performers. What one feels when surrounded by the sound of Wadaiko, brought out by these highly trained performers, is what the Japanese call Tamashy, translated as soul, spirit, and psyche—the basic elements of life.
Contact information
Phone:
(610) 330-5009 box office