When:
Sunday, December 3, 2023 -

2:00pm

-

4:00pm
Price:
Prices vary per item, no entry fee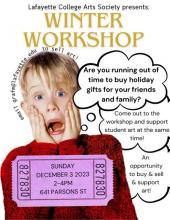 What is the Winter Workshop? 
    •    An opportunity to buy gifts for your families for the holiday. 
How is the Arts Society's Winter Workshop different? 
    •    We're selling student art! We want to create an opportunity for you to share your talents with the campus! We are accepting any form of art from paintings to collections of poetry to CD's of music, maybe even old dance shoes/clothes you want to give a new life. Anything you want to share is fair game!! Just fill out this (https://docs.google.com/forms/d/e/1FAIpQLScpETwCSDyyW29rqGM_y8hafRkUzgv_...) google form and we will send you more details! We want to supp
ort student artists this holiday season :) 
When is the Winter Workshop?
- Sunday December 3, 2023 from 2-4pm
Contact information
Link for More Information: