When:
Tuesday, April 25, 2023 -

4:10pm

-

5:00pm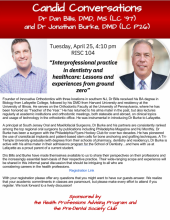 Join us for a conversation with Drs. Dan Bills, DMD, MS (LC '97) and Jonathan Burke, DMD (LC P '26) in RISC 104 to hear their perspectives on their professions and the increasingly essential team-bases of their respective practice. Their wide-ranging scope and experiences will be shared in this panel discussion that should be intriguing to all who are considering careers in the health professions. To attend, please register at this Qualtrics link 
Dr. Bills is the founder of Innovative Orthodontics (NJ). He serves on the Orthodontic Faculty at the University of Pennsylvania, where he has been honored as "Teacher of the Year".
Dr. Burke is a principal at South Jersey Oral and Maxillofacial Surgeons (NJ). He has pioneered the use of craniofacial implants and patient-based stem cells for bone anchoring and grafting techniques. He has been a surgeon with the Philadelphia Flyers Hockey Club for over two decades.   
Sponsored by:
Health Professions Program and Pre-Dental Society
Contact information
Name:
Ms. Simona Glaus, Health Professions Program Coordinator
Email:
healthprofessions@lafayette.edu
Link for More Information: