When:
Monday, March 20, 2023 (All day)
-
Friday, April 7, 2023 (All day)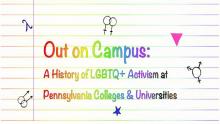 A new traveling exhibit, Out on Campus: A History of LGBTQ+ Activism at Pennsylvania Colleges and Universities, will be displayed on March 20 – April 7 on the First Floor of Skillman Library.
This exhibit presents the stories of the formation of some of the earliest LGBTQ+ student organizations and activism at colleges and universities in Pennsylvania, as well as experiences and personal stories of being openly LGBTQ+ on campus.
The exhibit is a collaborative project of the Pennsylvania LGBT History Network, with the LGBT Center of Central PA History Project serving as the managing partner and is hosted by the Lafayette Libraries in collaboration with Women's, Gender & Sexuality Studies Program.
Sponsored by:
The event is co-sponsored by Lafayette Libraries and the Women's, Gender & Sexuality Studies Program
Contact information
Link for More Information: