When:
Thursday, March 2, 2023 -

4:15pm

-

5:30pm
Where:
Kirby Hall of Civil Rights, Room 104 (Auditorium)
Presenter:
Sonja Thomas, Associate Professor of Women's and Gender & Sexuality Studies, Colby College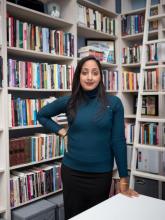 Have you heard of caste but never really understood what it is? Have you read the news about caste discrimination in Silicon Valley but still have questions?  Is caste religious? Is it about occupations?  What is the difference between race, colorism, and caste?  This crash course will be a primer on caste where you can learn about terms, caste discrimination in South Asia and in the US, and activism to end caste apartheid.  We will discuss how caste is systemic and dispel commonly held myths about caste.  This "course" is (roughly) 40 minutes long giving ample time for Q&A/discussion.
Sonja Thomas is an Associate Professor of Women's Gender and Sexuality Studies at Colby College.  Her research examines the intersections of caste, race, gender, class, and religion in postcolonial India and the South Asian diaspora. She is the author of Privileged Minorities: Syrian Christianity, Gender, and Minority Rights in Postcolonial India.  She is currently writing a manuscript on caste, race, Catholic settler colonialism, and missionary priests from India serving in rural Montana and North Dakota. Sonja has worked to make caste recognized as a protected category at Colby College and at her alma mater, the University of Minnesota.
Sponsored by:
Department of Religious Studies through the Lyman Coleman Speaker Fund and the Women's, Gender, and Sexuality Studies Program