When:
Tuesday, March 21, 2023 -

4:30pm

-

6:00pm
Where:
Kirby 104 and Zoom (Registration link below)
Presenter:
Sharon Dodua Otoo (Lafayette, Max Kade Center for German Studies), Prof. David Gramling (University of British Columbia), Prof. Priscilla Layne (University of North Carolina at Chapel Hill)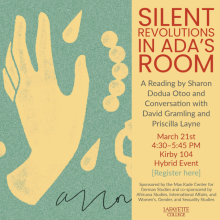 Please join us for a reading (in German and English) by Lafayette's Spring 2023 Max Kade Writer-in-Residence and 2016 Ingeborg Bachmann Prize winner, Sharon Dodua Otoo, and a discussion with remote guest panelists Prof. David Gramling (UBC) and Prof. Priscilla Layne (UNC at Chapel Hill) on the topic of literature, aesthetics, and social change in the German-speaking world, Europe, and the United States.
This is a hybrid event. Please register here for the Zoom meeting.
Sharon Dodua Otoo is a novelist and a political activist. She writes prose, essays and is editor of the English-language book series "Witnessed" (edition assemblage). Her first novellas "the things i am thinking while smiling politely" and "Synchronicity" were published in 2012 and 2015 respectively. Otoo won the Ingeborg Bachmann Prize in 2016 with the text "Herr Gröttrup setzt sich hin." Her first novel, Adas Raum, is written in German and was published in 2021 by S. Fischer Verlag. It is due to appear shortly in English translation as Ada's Room (Riverhead Books, March 2023) and as Ada's Realm (MacLehose Press, April 2023). Otoo is politically active with the registered associations Initiative Black People in Germany and Phoenix, and is associated with the Black queer feminist organisation ADEFRA. In 2022 she curated the Black German Language Literature Festival "Resonances." She has four children and lives in Berlin.
Dr. David Gramling is Professor and Head of the Department of Central, Eastern, and Northern European Studies at the University of British Columbia. He is the author, editor, or translator of seven books in print: The Invention of Multilingualism (Cambridge University Press, 2021); The Invention of Monolingualism (Bloomsbury 2016, American Association for Applied Linguistics Book Award, 2018); co-author of Palliative Care Conversations: Clinical and Applied Linguistic Perspectives (De Gruyter 2019, with David's big brother Robert Gramling); Linguistic Disobedience: Restoring Power to Civic Language (Palgrave 2019, with Yuliya Komska and Michelle Moyd); Germany in Transit: Nation and Migration 1955–2005 (University of California Press 2007 with Deniz Göktürk and Anton Kaes); and Transit Deutschland: Debatten zu Nation und Migration (Konstanz University Press / Wallstein Verlag, with Deniz Göktüurk, Anton Kaes, and Andreas Langenohl). David's book-length co-translation (with Aron Aji) of Murathan Mungan's Turkish-language Shahmeran story cycle Valor: Stories (Cenk Hikayeleri) was published in Fall 2023 with Northwestern University Press, supported by a 2021 Global Humanities Translation Prize from Northwestern University. Future books include Literature in Late Mono/lingualism, Translating Transgender (with Aniruddha Dutta), and Aloof: On Seeing Less than you Should. David is an editorial board member of Transgender Studies Quarterly (Duke University Press) and German Quarterly, and was founding editor with Chantelle Warner of Critical Multilingualism Studies, now under the editorship of Janice McGregor and Emma Trentman.
Dr. Priscilla Layne is Associate Professor of German and Adjunct Assistant Professor of African and Afro-American Studies at the University of North Carolina at Chapel Hill. Her first book, White Rebels in Black: German Appropriation of Black Popular Culture, was published in 2018 with the University of Michigan Press. In this book, she examines how, following WWII, German artists often associated white, rebellious male characters with black popular culture, because black culture functioned as a metaphor for rebellion. Priscilla is currently working on her second book, Out of this World: Afro-German Afrofuturism, which focuses on Afro-German authors' use of Afrofuturist concepts in literature and theater. In addition to this project, some of the broader themes she is interested in are German national identity, conceptions of race and self/other in Germany, cross-racial empathy, postcolonialism, and rebellion.
We look forward to welcoming you at the event!
Sponsored by:
Max Kade Center for German Studies; Languages and Literary Studies, German; Africana Studies; Women's, Gender and Sexuality Studies; International Affairs
Contact information
Link for More Information: