When:
Thursday, March 23, 2023 (All day)
-
Friday, June 30, 2023 (All day)
Presenter:
Lafayette College Art Galleries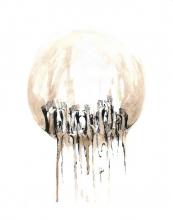 March 23 – June 30, 2023
Focus V – Shawn Beeks: Drawing from the Archive
Engaging with the recent acquisitions of Civil Rights Era photographs from the Goodman Collection, Shawn Beeks draws a series of cartoons from selected photographs that stirred his imagination as well as a slew of emotions. The combination of his immaculate line drawings and satirical tone make a poignant political platform from which Beeks critiques the perpetual presence of racism in the United States. Beeks writes, "Graphic violence drawn in a Sunday comics style doesn't make America's racism any easier to swallow, and it shouldn't, but it does make it a little easier for me to draw. This may not alter the present, but I hope it can change the future." Beeks created a new series of drawings that create a conjuncture of racialization that makes evident the connections from the Civil Rights Era with racial politics in the age of #BlackLivesMatter.
Sponsored by:
Lafayette College Art Galleries
Contact information
Link for More Information: