When:
Tuesday, March 21, 2023 -

7:00pm

-

8:30pm
Presenter:
Marc R. Stein, Pasker Professor of History, San Francisco State University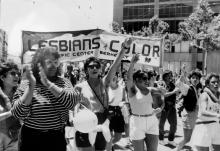 In this lecture, nationally recognized historian of LGBTQ activism Marc Stein offers a close look at the organizational and legal dynamics of early LGBTQ student activism in the US. Stein explores how new gay student groups battled for recognition in the 1970s and analyzes the various tactics they used to secure recognition by their institutions. Stein will also discuss his work on the "Out on Campus" exhibit (on display in Skillman Library March 20 - April 7, 2023) and the recent growth of projects that queer the history of higher education.
Sponsored by:
Lafayette Libraries and the Women's, Gender & Sexuality Studies program