When:
Saturday, September 17, 2022 -

9:00am

-

5:00pm
Where:
Williams Center for the Arts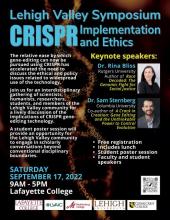 The Lehigh Valley Symposium on CRISPR Implementation and Ethics (LV-SCIE) is an interdisciplinary gathering of scientists, humanists, researchers, students, and members of the Lehigh Valley community to discuss the implications of the CRISPR-Cas9 gene-editing technology. The day-long symposium includes presentations by students and faculty, including two keynote speakers; a facilitated discussion between speakers and attendees; and an interdisciplinary, student poster session. While the symposium will focus on the scientific background and ethical implications of the CRISPR technology, it also provides a space for engaging with complex problems through scholarly communication, collaboration, and understanding across (and beyond) disciplinary boundaries.
The LV-SCIE is made possible thanks to generous support from:
- The Office of the President
- The Office of the Provost
- The Division of Campus Life
- The Humanities Center Initiative and the Cyril Lang '49 Center for the Humanities Endowment Fund
- The Forum on Technology and the Liberal Arts, with support made possible by the Class of 1974 Technology and Liberal Arts Endowment
- The Lafayette College Philosophy Department, with support made possible by The Louise M. Olmsted Endowment Fund for Ethics
- Lehigh Valley Association of Independent Colleges (LVAIC) Funding for Collaborative Programs
- The Lehigh University Center for Ethics, with support made possible by the Endowed Fund for the Teaching of Ethical Decision-Making
- The Hanson Center for Inclusive STEM Education
- The Muhlenberg College Biology Department
- The Lafayette College Chemistry Department
- The Lafayette College Biology Department
- The Lafayette College Engineering Studies Department
Contact information
Link for More Information: