When:
Monday, May 23, 2022 (All day)
-
Saturday, June 11, 2022 (All day)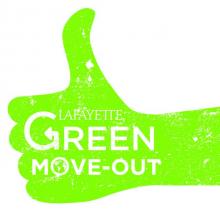 Green Move Out is underway. In addition to donating your new or gently used items in the green bins throughout campus, the Office of Sustainability and the Landis Center are looking for volunteers to help sort the items for donation and a community sale. To sign up to volunteer, with shifts beginning on May 23rd, visit: https://lafayette.givepulse.com/event/293290. For more information on where and what you can donate, visit https://sustainability.lafayette.edu/green-move-out/. 
Sponsored by:
Office of Sustainability & Landis Center
Contact information
Link for More Information: