When:
Thursday, January 13, 2022 - 8:00am
-
Saturday, February 5, 2022 - 11:59pm
Where:
https://dyer.lafayette.edu/2021/12/02/real-estate-competition/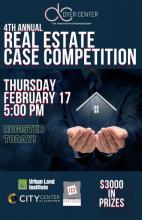 The Real Estate Case Competition immerses Lafayette students into the world of real estate development. Participants receive a crash course in real estate, work with an industry mentor as they conduct a project feasibility analysis on an actual Lafayette College development project, and present their recommendations to a panel of industry experts.
Dyer Center is partnering with the Urban Land Institute for this year's real estate case competition. Student participants will have access to ULI's Foundation of Real Estate educational modules to prepare for the case competition and will be eligible to complete the commercial real estate certificate program through ULI.
Important Dates
 Important Dates
Real Estate 101 – A workshop to review terms and basic information
Thursday, February 3, 2022
12:00pm
Bootcamp and Topic Release – At least 1 team member must attend
Saturday, February 5, 2022
10:00am
Case Competition
Thursday, February 17, 2022
5:00pm
Sponsored by:
The Dyer Center for Innovation + Entrepreneurship
Contact information
Link for More Information: