When:
Monday, April 11, 2022 -

4:30pm

-

6:00pm
Where:
104 Kirby Hall of Civil Rights or on Zoom
Presenter:
Prof. Tiffany N. Florvil (University of New Mexico)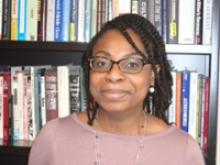 Tiffany N. Florvil, Associate Professor of History at the University of New Mexico, will speak about the topic of "Black German Women's Culture Productions" with a focus on the poet and activist May Ayim. The talk discusses how Black German women unified and created a diasporic movement that made the Black diaspora and Black Germanness legible in the nation, allowing them to articulate demands for equality and antiracism in and beyond Germany.
Professor Florvil is a historian of Comparative Women's and Gender Studies in Europe. Her areas of interest include race and ethnicity, gender, identity formation, social and cultural movements, Black internationalism, intellectualism, diasporas, and emotions. Her familial connections to the Caribbean and experiences attending schools in Germany, Florida, Wisconsin, and the South as well as working at a research institution in London, England have informed her pedagogy.
Florvil's book Mobilizing Black Germany examines "the role of queer and straight women in shaping the contours of the modern Black German movement as part of the Black internationalist opposition to racial and gender oppression. Florvil shows the multifaceted contributions of women to movement making, including Audre Lorde's role in influencing their activism and the activists who inspired Afro-German women to curate their own identities and histories." Mobilizing Black Germany has recently won the Book Prize of the Waterloo Center for German Studies. 
This is a now hybrid event. Please register for the Zoom meeting here: https://lafayette.zoom.us/meeting/register/tJ0qfuuuqj4pEtdZj1Z_Eb7tcRyQqF9zAHFM
Sponsored by:
Max Kade Center for German Studies; Foreign Languages and Literatures; Women's, Gender and Sexuality Studies
Contact information
Link for More Information: