When:
Friday, November 19, 2021 -

12:15pm

-

1:00pm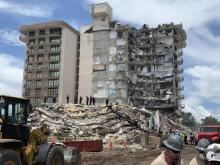 The collapse of the Champlain Towers condo took less than 12 seconds but killed 98 people, left dozens without a home, and shocked the nation. In the wake of this disaster, many were left wondering how a 12-story building could collapse just 40 years after construction.
Civil Engineering Associate Professor Steve Kurtz will provide a structural engineering analysis of the Champlain Tower Collapse on Friday, November 19 at 12:20 in Hugel 103. The talk is also accessible via Zoom at: https://lafayette.zoom.us/j/94757825316
Prof. Kurtz studied the original design drawings and created computer models to help explain why this 12-story building collapsed.  He will point out the design flaws, evidence of poor construction, and poor maintenance that contributed to the collapse.  Using simple demonstrations to explain the issues, this talk will make it easy for engineers and non-engineers to understand what happened.
Lunch will be provided. RSVP to ensure an accurate count for those attending in person. Survey link: https://lafayettec.az1.qualtrics.com/jfe/form/SV_2i6PSUGWxFKeLs2
For more information contact engineering@lafayette.edu
Sponsored by:
Civil & Environmental Engineering, Engineering Division