When:
Monday, October 25, 2021 (All day)
-
Monday, December 27, 2021 (All day)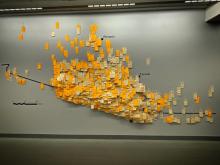 Hostile Terrain 94 (HT94) is a participatory exhibition created by the Undocumented Migration Project, a non-profit organization that focuses on the social process of immigration and raises awareness through research, education, and outreach. The exhibit is composed of approximately 3,400 handwritten toe tags that represent migrants who have died trying to cross the Sonoran Desert from the mid-1990s to 2020. These tags are geolocated on a wall map of the Arizona—Mexico border, showing the exact locations where human remains were found. The construction of HT94 was made possible by teams of students who participated in tag-filling workshops, where they wrote the details of the dead and then publicly placed the tags on the wall map. Some tags also contain QR codes that link to content related to migrant stories and visuals connected to immigration, including a virtual exhibition that can be accessed via cellphone. A small reception is planned for October 28 (4:00 p.m. to 5:00 p.m.) in front of the library (more details to follow).
Sponsored by:
A&S Department, Latin American & Caribbean Studies (LACS)