When:
Thursday, November 18, 2021 -

7:00pm

-

9:00pm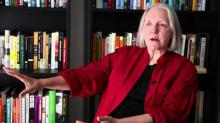 The International Affairs program is pleased to welcome Dr. Saskia Sassen as the Class of '61 International Speaker Series lecturer. The Class of '61 Lecture for  2021 will focus on the challenges facing cities in an uncertain age. Dr. Saskia Sassen's work has defined debates about the role of cities in a globalized world for thirty years. On the 30th anniversary of the publication of her groundbreaking book The Global City: New York, London, Tokyo, Dr. Sassen will reflect on how global cities have developed over the past three decades and what the post-COVID future might have in store for the world's urban areas.
The event will be held via Zoom, with viewing in person on Lafayette Campus in Oechsle Hall 224! If you wish to watch via Zoom, please RSVP using the Google Form linked here.
Dr. Saskia Sassen is Robert S. Lynd Professor of Sociology and Co-Chair of the Committee on Global Thought at Columbia University. She has authored or edited over ten books and dozens of articles on cities, migration, globalization, and many other topics. She holds a Ph.D. from the University of Notre Dame, and has been awarded over a dozen honorary doctorate degrees, alongside numerous prestigious recognitions for exemplary contributions to social science.