When:
Wednesday, September 29, 2021 -

4:10pm

-

5:00pm
Where:
Zoom - Register to Attend: https://lafayette.zoom.us/meeting/register/tJMld-Cqrz0rHt0GVF6EgboZpW_sO0TQnruE
Presenter:
Millie Smith, NCUR Coordinator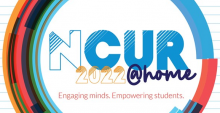 The National Conference on Undergraduate Research (NCUR) will be held virtually from Monday, April 4, 2022 to Friday April 8, 2022.
This conference showcases the research done by undergraduates in all fields of study. This year, accepted abstract presenters will be assigned to a learning group/cohort within a similar discipline and will be given the opportunity to present a digital poster, give an oral presentation, showcase an art display or performing arts, and more.
New this year, students will be able to opt-in to a competitive element for their presentations.  In previous years, more than 2,800 faculty and students from over 300 institutions attended NCUR in person, making it the largest celebration of undergraduate research.
Students who are interested in participating in NCUR are encouraged to register to attend this important information session where they will obtain information on upcoming deadlines, submitting abstracts to NCUR, receiving funding to attend, and more. 
Don't miss this wonderful opportunity!
Contact information
Link for More Information: