When:
Tuesday, September 28, 2021 -

4:15pm

-

5:15pm
Presenter:
Experimental Printmaking Institute and Africana Studies Program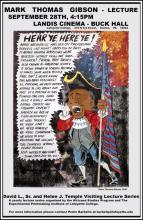 Mark Thomas Gibson's personal lens on American culture stems from his multipartite viewpoint as an artist—as a black male, a professor, and an American history buff. These myriad and often colliding perspectives fuel his exploration of contemporary culture through languages of painting and drawing, revealing a vision of a dystopic America where every viewer is implicated as a potential character within the story.Mark Thomas Gibson (b. 1980, Miami, FL) received his BFA from The Cooper Union in 2002 and his MFA from Yale School of Art in 2013. He is represented by Fredericks & Freiser in New York, M+B in Los Angeles and Loyal in Stockholm. In 2016, he co-curated the travelling exhibition Black Pulp! with William Villalongo. Gibson has released two artist books, Some Monsters Loom Large (2016) and Early Retirement (2017).
Gibson was recently awarded a 2021-22 Hodder Fellowship at Princeton University, Princeton, NJ.
Website link- http://www.markthomasgibson.com
Sponsored by:
David L. Sr. and Helen J. Temple Visiting Lecture Series
Contact information
Link for More Information: