When:
Wednesday, October 13, 2021 -

12:00pm

-

1:00pm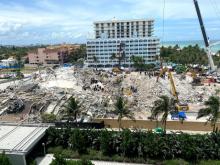 The Champlain Tower was a form of construction that is generally called flat-plate concrete construction.  It is the most common form of construction for mid-rise and high-rise residential buildings.  Prof. Kurtz has worked on the design of quite a few buildings of this type.
Prof. Kurtz will provide a structural engineering analysis of the Champlain Tower Collapse that occurred this summer, based on the publicly available information.  While it is fairly straightforward to point out the design flaws, evidence of poor construction, and poor maintenance, determining the exact sequence of events and the singular trigger that cause the collapse is more elusive.  Prof. Kurtz will do his best to sift through the publicly available information to explain why this 12-story building collapsed.
Sponsored by:
Civil & Environmental Engineering, Engineering Division