When:
Thursday, September 2, 2021 (All day)
-
Saturday, November 13, 2021 (All day)
Where:
Williams Visual Arts Building, Grossman Gallery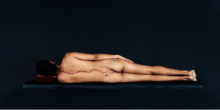 Grossman Gallery: Sept 2–Nov 13, 2021
Emilio Rojas: tracing a  wound through my body
tracing a  wound through my body is the first survey of the contemporary and multidisciplinary practice of artist Emilio Rojas (b. 1985 Mexico City). The exhibition brings together works spanning the past decade including live performances and interventions, documents of performance sustained in video and ephemera, photography, sculpture, installation, and poetry. Recognizing the act of tracing dualistically, tracing a wound  through my body both reexamines the artist's corpus and reckons with the legacies of colonial and border traumas. For Rojas, such reckoning renders palpable visible and invisible wounds through the radically political instrumentalization of his body.
Sponsored by:
Lafayette Art Galleries, CaPA, PA Council on the Arts, Northampton County Historial & Genealogical Society
Contact information
Link for More Information: