When:
Wednesday, September 1, 2021 (All day)
-
Saturday, December 18, 2021 (All day)
Where:
Williams Gallery, 317 Hamilton St, Easton, PA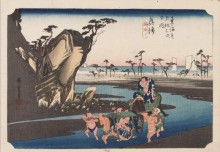 On View from Sept. 1–Dec. 18, 2021
Williams Center Gallery
Utagawa Hiroshige's "Fifty-three Stations of the Tōkaidō Road," printed in 1833 and 1834, is a series of Japanese woodblock prints that document the artist's first journey on the Tōkaidō, the "Eastern Sea Road." This arterial highway connected the shogunal capital of Edo (modern-day Tokyo) with the imperial capital, Kyoto. The prints visually document the post stations that dotted the highway, as well as the natural wonders that the traveler experienced along the journey. These works blend sweeping landscapes, focused studies of activities in the post-stations, and emotive caricatures to create works that tread the line between majestic landscape and lighthearted storytelling. The beauty of these works lies not just in the destinations but in the journey itself.
The prints are on loan from the Allentown Art Museum; Gift of Mr. and Mrs. Fowler Merle-Smith, 1991.
The exhibition is curated by Professor Ingrid Furniss of the Art Department and EXCEL Scholar, Nick Scaglione, Class of 2021.
---
LECTURE
Professor Furniss will deliver a public lecture on the exhibition, November 17th,  4:15 p.m., Williams Center for the Arts, Room 108. The lecture and exhibition are organized in conjunction with Lafayette's Global Education Initiative and its two-year Global Cities programmatic theme.
Sponsored by:
Allentown Art Museum; Gift of Mr. and Mrs. Fowler Merle-Smith, 1991.
Contact information
Link for More Information: