When:
Friday, September 17, 2021 -

12:00pm

-

1:00pm
Where:
Zoom: https://lafayette.zoom.us/j/96191014529
Presenter:
Helena Silverstein, Professor and Department Head, Government and Law, Lafayette College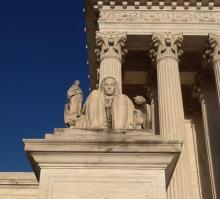 On September 1, the U.S. Supreme Court let a Texas statute banning abortion after six weeks of pregnancy go into effect.  The Texas law is the most restrictive abortion regulation to be in effect in the U.S. since the Supreme Court ruled in 1973 that the Constitution protects a women's right to choose abortion.  Effectively banning almost all abortions, the Texas law and the Court's decision to let the law stand for now raise the question of whether abortion remains a protected constitutional right.
Helena Silverstein, Professor of Government and Law at Lafayette College, will address this question at this year's Constitution Day presentation.Professor Silverstein is author of three books: The Supreme Court (Greenwood Press, 2021), Girls on the Stand: How Courts Fail Pregnant Minors (New York University Press, 2007), and Unleashing Rights: Law, Meaning, and the Animal Rights Movement (University of Michigan Press, 1996).  Her research on law and society, constitutional law, social movements, and abortion politics has appeared in several journals, including Law & Social Inquiry, Law & Policy, Iowa Law Review, University of Pennsylvania Journal of Constitutional Law, Cornell Journal of Law and Public Policy, and Law and Inequality.
Join Women in Law and the Kirby Government & Law Society for this event.  The event will be fully virtual on Zoom at the following link:  https://lafayette.zoom.us/j/96191014529 

Sponsored by:
Women in Law; Kirby Government and Law Society; Government & Law Department