When:
Friday, May 14, 2021 - 12:00pm
-
Monday, May 24, 2021 - 2:00pm
Where:
on the Quad, near Farinon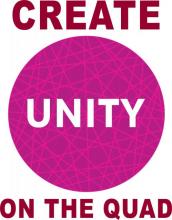 Create UNITY on the Quad
Friday, May 14–Monday, May 24
UNITY on the Quad is a collaborative art installation designed to demonstrate visually that diversity and inclusion make a community stronger. Participants will string yarn from a center post around any of 32 posts, arranged in a circle and labeled with statements of self-identification, creating a colorful woven canopy that illustrates the myriad aspects of the Lafayette Experience.
The Arts Society is pleased to present UNITY on the Quad as a tangible and beautiful symbol of how strong and vibrant our community can be when we all contribute and work together.
While UNITY is in place (mid-morning to sundown), anyone may participate at any time; we also invite groups to use the site for meetings, discussions, picnics, or other gatherings.
Part of the Arts Society's mission is to encourage everyone to be creative and to enjoy making art, and we love to engage the community beyond the typical "art spaces" on campus.
More information about the UNITY Project: http://www.unityproject.net/
Sponsored by:
Lafayette College Arts Society