When:
Thursday, May 6, 2021 -

4:15pm

-

5:30pm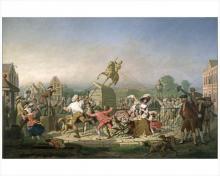 Wendy 

Katz

 will present her research on William Walcutt (American 1819-1882), 
an artist 

who heroicized colonial Americans

 as

 ordinary citizens who won their own independence. Walcutt's effort to revive this past

,

 in order to topple the tyrants of the present

,

 was undermined when anti-immigrant forces co-opted his working-class message.

 
Walcutt's Pulling Down the Statue of George III at Bowling Green, N.Y., July 9, 1776, painted in 1857, depicts the destruction of the monument by New Yorkers and George Washington's troops following a public reading of the Declaration of Independence on July 9, 1776. The painting is in the Lafayette Art Collection and can be seen in the current exhibition in the Williams Center Gallery. Lafayette students, faculty, and staff can visit the gallery by appointment.
Katz is a professor of art history at the University of Nebraska–Lincoln, where she is also a Fellow of the Center for Great Plains Studies and the International Quilt Museum and a faculty member of Nineteenth-Century Studies and the Harris Center for Judaic Studies. She studies how the language of taste, as wielded by patrons, critics and artists to describe American art, expresses moral and social values. Her research has focused on 17th-century Anglo-American portraits, 19th-century landscape, genre painting, and sculpture, and African-American art. 
Join Zoom Meeting https://lafayette.zoom.us/j/94076742675 Meeting ID: 940 7674 2675 One tap mobile +13017158592,,94076742675# US (Washington DC) +13126266799,,94076742675# US (Chicago)
Sponsored by:
Lafayette Art Gallery & Collections