When:
Wednesday, May 19, 2021 -

5:00pm

-

6:30pm
Where:
Virtual - https://lafayette.zoom.us/j/93033494860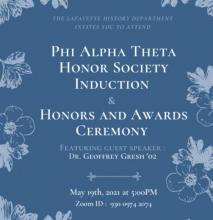 Please help us celebrate this year's History Department Honor and Awards honorees and the induction of new Phi Alpha Theta History Honors Society members.
Keynote Speech
Dr. Geoffrey Gresh. "To Rule Eurasia's Waves: A Past and Present Perspective on the New Great Power Competition at Sea." 
Eurasia's emerging powers—India, China, and Russia—have increasingly embraced their maritime geographies as they have expanded and strengthened their economies, military capabilities, and global influence. Maritime Eurasia, a region that facilitates international commerce and contains some of the world's most strategic maritime chokepoints, has already caused a shift in the global political economy and challenged the dominance of the Atlantic world and the United States. Climate change is set to further affect global politics. Geoffrey Gresh will place Eurasia in a larger historical and maritime perspective and considers how the melting of the Arctic ice cap will create new shipping lanes and exacerbate a contest for the control of Arctic natural resources. He explores as well the strategic maritime shifts under way from Europe to the Indian Ocean and Pacific Asia and why this is historically significant. The race for great power status and the earth's changing landscape, Gresh shows, are rapidly transforming Eurasia and thus creating a new world order.

Geoffrey Gresh '02 is Professor of International Relations at National Defense University in Washington, DC. He is a proud double major in History and French from Lafayette where he wrote his honors thesis on the late 19th century bankruptcy of the Ottoman Empire. He received a Ph.D. in International Relations and MALD from The Fletcher School of Law and Diplomacy at Tufts University. He is the author of Gulf Security and the U.S. Military: Regime Survival and the Politics of Basing (Stanford University Press) and the forthcoming To Rule Eurasia's Waves: The New Great Power Competition at Sea (Yale University Press). 
Sponsored by:
History Department and Phi Alpha Theta History Honor Society