When:
Monday, April 12, 2021 -

4:10pm

-

5:30pm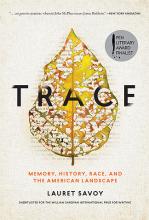 Award-winning author Lauret Savoy will offer a lecture based on her acclaimed book, Trace: Memory, History, Race, and the American Landscape. Trained as a geologist, Savoy is the David B. Truman Professor of Environmental Studies at Mount Holyoke College, and in Trace, she interweaves incisive readings of American landscape with accounts of her own family's lives in that landscape, including their mixed identities in African-American, Native American, and White American communities. Savoy will also speak on a new work in progress focused on the environmental history of her family's deep roots in the Washington, DC region.
This event is part of the college's Earth Month programming, coordinated by the Office of Sustainability. It is free and open to the public, though pre-registration is necessary for the link.
Sponsored by:
Environmental Studies and Sciences Program, Office of Sustainability, English Department, Geology and Environmental Geosciences Department