When:
Friday, April 9, 2021 -

12:00pm

-

1:15pm
Where:
Zoom: https://lafayette.zoom.us/j/96242583030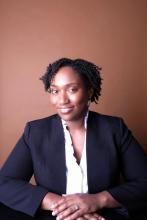 Often blamed for the rising rates of obesity and diabetes among black Americans, fast food restaurants like McDonald's have long symbolized capitalism's villainous effects on our nation's most vulnerable communities. But how did fast-food restaurants so thoroughly saturate black neighborhoods in the first place? In Franchise, Marcia Chatelain uncovers a surprising history of cooperation among fast-food companies, black capitalists, and civil rights leaders, who—in the troubled years after King's assassination—believed they found an economic answer to the problem of racial inequality. Synthesizing years of research, Franchise tells a troubling success story of an industry that blossomed the very moment a freedom movement began to wither. Join Africana Studies for this exciting event on Friday, April 9th at noon as Dr. Marcia Chatelain discusses her exciting and informative work! https://lafayette.zoom.us/j/96242583030
Marcia Chatelain is a Professor of History and African American Studies at Georgetown University. She teaches about women's and girls' history, as well as black capitalism. Her latest book is Franchise: The Golden Arches in Black America (Liveright Publishing Co./W.W. Norton, 2020). Chatelain has received awards and honors from the Ford Foundation, the American Association of University Women, and the German Marshall Fund of the United States. In 2016, the Chronicle of Higher Education named her a Top Influencer in academia in recognition of her social media campaign #FergusonSyllabus, which implored educators to facilitate discussions about the crisis in Ferguson, Missouri in 2014. She has held an Eric and Wendy Schmidt Fellowship at New America, a National Endowment for the Humanities Faculty Fellowship, and an Andrew Carnegie Fellowship.