When:
Thursday, April 15, 2021 -

4:00pm

-

5:30pm
Where:
Zoom: https://lafayette.zoom.us/j/92836967009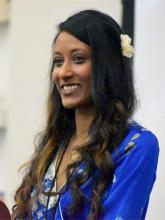 Please join the MREMS Program and the English Department for an exciting talk on the ways in which racism has shaped the past and present of medieval studies.
Our distinguished speaker, Mary Rambaran-Olm (she/her/hers), is a literary historian specializing in the early medieval period, and a Provost Doctoral Fellow at the University of Toronto. She has a number of forthcoming projects centered on race and racism within the field of early English studies. She is near completion of her second book co-edited with Erik Wade on race in early England. Her public writing highlights white supremacy within academia and emphasizes misappropriation of the middle ages by white nationalists. She is also an antiracist activist within the Black Lives Matter movement that seeks justice and equity for Black lives in and outside the academy.
Her presentation will be 45-50 minutes, with Q&A to follow.
Sponsored by:
Medieval, Renaissance, and Early Modern Studies Program / English Department