When:
Wednesday, October 7, 2020 -

7:00pm

-

8:00pm
Where:
Online, through the Williams Center for the Arts
Presenter:
Williams Center for the Arts
Price:
Lafayette students – free; Lafayette faculty and staff - $10; General public - $15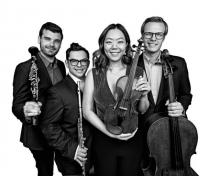 Hub New Music
Music and Meaning: An evening of Performance and Conversation
with Hub founder Michael Avitabile
Composer Carlos Simon
Professor Wendy Wilson-Fall, Chair, Africana Studies
Jeremy Zallen, Assistant Professor of History
Visionary, bold, and imaginative ideas are the hallmarks of Hub New Music, contemporary trailblazers who take the quartet repertoire for flute, clarinet, violin, and cello to new heights. Through creative programming and ambitious commissioning projects, this quartet of "intrepids" (WQXR) champions the fluidity and diversity of today's classical music landscape by forging new pathways in 21st-century repertoire.
This program, emblematic of Hub New Music's far-reaching approach, offers a "first look" at a new work commissioned from composer Carlos Simon. Musically inspired by spirituals and liturgical music, Requiem for the Enslaved draws textual inspiration from historical documents detailing the sale of 272 slaves to pay the debts of Georgetown University, where the composer currently serves as Assistant Professor of Music. Lafayette College professors Wendy Wilson-Fall and Jeremy Zallen join Simon prior to talk about the import and impact of his research and music.
In Soul House, composer Robert Honstein uses the ancient world's practice of providing the dead with a small dwelling for the afterlife to explore memory, reflection, and nostalgia. An extended love letter to the composer's childhood home, each movement of Soul House depicts a difference scene and feeling.
"Next time Hub New Music offers a concert, go, listen, and be changed" (Boston Globe).
Tickets: Lafayette students – free; $10 – Lafayette faculty and staff; $15 general public.  Reserve your tickets here: https://lafayette.universitytickets.com/w/event.aspx?id=1707
Sponsored by:
Williams Center for the Arts
Contact information
Link for More Information: