When:
Sunday, November 8, 2020 -

7:00pm

-

8:30pm
Where:
Online at the Williams Center for the Arts
Presenter:
Williams Center for the Arts and Lafayette Art Galleries
Price:
Lafayette students - free; Faculty/staff $10; $15 general public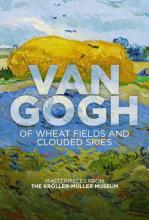 Great Art on Screen presents a series of event documentaries featuring an in-depth look at the most extraordinary and groundbreaking art masters of their time.
Van Gogh: Of Wheat Fields and Clouded Skies takes a fresh look at the artist through the legacy of the greatest private collector of the Dutch artist's work: Helene Kröller-Müller (1869-1939), one of the first to recognize the genius of Vincent Van Gogh. In the early 20th century, Kröller-Müller amassed nearly 300 of Van Gogh's paintings and drawings now housed at her namesake museum in Holland.
The Basilica Palladina exhibition in Vicenza, "Amid Wheat Fields and Clouded Skies," with 40 paintings and 85 drawings on loan from the Kröller-Müller Museum, lends the basis of this program, revealing Van Gogh's art and his genius, while allowing audiences to understand the importance of drawing as part of his craft.
Van Gogh's seemingly instinctive canvases were the result of long, preparatory studies very rarely exhibited – not just sketches but stunning works of art in and of themselves, where the broken flow of lines that characterize the style and strokes in Van Gogh's paintings can already be seen.
Tickets: Lafayette students – free; $10 – Lafayette faculty and staff; $15 general public.  Reserve your tickets here: https://lafayette.universitytickets.com/w/event.aspx?id=1706
Lafayette students, faculty, and staff
, log in with your Lafayette credentials.
Great art is on your screen, wherever you are, as part of the Fall 2020 virtual season. Join us for the premiere at 7 p.m. on November 8, or watch at your convenience anytime up to 9 p.m. on November 9.
Sponsored by:
Williams Center for the Arts and Lafayette Art Galleries
Contact information
Link for More Information: