When:
Thursday, September 17, 2020 -

12:00pm

-

1:00pm
Where:
https://lafayette.zoom.us/meeting/register/tJEucOivrzIiH9z5VOe4S037E0MfLrL9pCws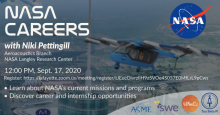 This event will be an informative presentation on the NASA Agency and its current missions and programs. Niki Pettingill will share her own internship and career experiences at the NASA Langley Research Center as well as some of the career opportunities available throughout the Agency. 
Research Aerospace Engineer 
Niki Pettingill is a Research Aerospace Engineer within the Aeroacoustics Branch at the NASA Langley Research Center. Her branch conducts research aimed at understanding and accurately predicting the noise from any air vehicle configuration, as well as defining and demonstrating concepts for air vehicle noise reduction. She is part of a team that investigates the aeroacoustics of rotating blade systems for rotorcraft and Urban Air Mobility (UAM) applications. Niki's research role is to identify and characterize rotor noise signatures associated with vehicles ranging from small-scale vehicle configurations to full scale aircraft. She obtains and processes performance and acoustic data for small rotor tests in the NASA Low Speed Aeroacoustic Wind Tunnel (LSAWT) and the Small Hover Anechoic Chamber (SHAC). She also uses and validates several analytical and semiempirical acoustic prediction tools. Niki obtained her M.S. in Aerospace Engineering from Virginia Tech and her B.S in Mechanical Engineering from Lafayette College. Her hobbies include painting, softball, roller skating and hiking. She has two cats named Spiff and Hobbes.