When:
Thursday, October 8, 2020 -

12:15pm

-

1:15pm
Where:
Virtual: Information to register will be emailed through Lafayette Today
Presenter:
Nii Addy, Neuroscientist, Anna DeVault, CITLS Student Fellow, Chris Phillips, CITLS Distinguished Teaching Fellow, Melissa Garrison, Counseling Center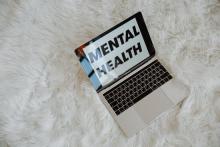 This is a challenging time for higher education with mental well-being already being of increasing concern for our students pre-COVID-19. The impacts of social isolation, sickness and death and other disruptions caused by COVID-19, necessitate conversations and recommendations around supporting students' mental health. A panel consisting of a guest expert on mental health, the counseling center, a Lafayette student and a Lafayette faculty member will discuss these important issues with the community.
Moderators: 
Tracie Addy, Associate Dean of Teaching & Learning, Lafayette College
Manuela Borzone, Assistant Director of CITLS, Lafayette College
Panelists: 
Melissa Garrison, Director of Counseling Services, Lafayette College 
Chris Phillips, Professor of English, Lafayette College
Nii Addy, Associate Professor of Psychiatry, Yale School of Medicine
Anna DeVault, Class of '21, Lafayette College
Sponsored by:
CITLS, Counseling Center, Department of Psychology, Neuroscience Program
Contact information
Name:
Tracie Addy, Associate Dean Teaching & Learning; Director, CITLS