When:
Tuesday, February 25, 2020 -

12:00pm

-

1:00pm
Where:
Jaqua Auditorium (Hugel 103)
Presenter:
Dr. Emily Channell-Justice and Professor Joshua Sanborn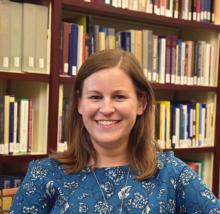 This was the question asked by Secretary of State Mike Pompeo to veteran journalist Mary Louise Kelly before asking her whether she thought Americans cared about Ukraine. Kelly both knew where Ukraine is (hint: it's the largest country that lies totally within Europe) and cares about it. If you recognize that you too should know more about Ukraine, this is the event for you! Professor Sanborn will provide a brief history of Ukraine before turning the podium over to Dr. Channell-Justice, the director of the Temerty Contemporary Ukraine Program at Harvard University. Topics will include: Ukrainian politics since the Euromaidan demonstrations in 2013-14, Russian-Ukrainian relations and the phenomena of hybrid war and cyberwar, and the Ukrainian dimension of the current American political crisis. Q&A session will follow the presentations. Lunch will be provided on a first-come, first-serve basis!
Sponsored by:
Russian and East European Studies Program, Department of Government and Law, Department of History, Department of Foreign Languages & Literatures, ISA X-Posed Series