When:
Monday, March 2, 2020 -

4:15pm

-

5:15pm
Where:
Gendebien Room, 2nd floor of Skillman Library
Presenter:
Fr. John Pozhathuparambil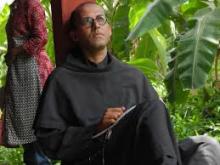 Fr. John Pozhathuparambil is a Conventual Franciscan Friar serving as Campus Minister to Bellarmine University in Louisville, Kentucky. He is responsible for sacramental administration and the spiritual care of Bellarmine students. He has been involved in service in the Franciscan Kitchen and has been bringing students to serve with him in India for the past 6 years. He has also been involved in giving students a global perspective by teaching and taking students to visit India to learn about culture. Fr John hails from Kerala, India, known as "God's own country".  Father John holds a Masters degree in Literature in Malayalam, his native language. He is currently working on his Doctorate in Ministry from Louisville Presbyterian Theological Seminary.
Father John's ministry for young adults is based on Indian- Franciscan spirituality. Given the rise of the nones (young people who are unaffiliated with religion), the ministry attracts young people by rooting them in the three Franciscan core values of relationality, community, and Gospel-living. The ministry begins by building relationships through one-on-one meetings over Indian food. Once the relationship is established, young adults are invited to regular community gatherings. These community gatherings offer a home-like setting where they feel welcomed, respected, and engaged.  Intentionally, the friars call this home an 'Ashram' which, in a broader sense, means "all are welcome". Once the young adult becomes part of the community, the ministry guides them as they enter a deeper level of encountering Christ and Gospel-living through retreats, service, and engagement.
Please join in this conversation with Fr. John to learn about Christianity through the lens of Indian-Franciscan spirituality. 
Sponsored by:
Office of Religious & Spiritual Life, Department of Religious Studies, Newman Association
Contact information
Name:
Chaplain Alex Hendrickson