When:
Thursday, January 16, 2020 -

9:00am

-

5:00pm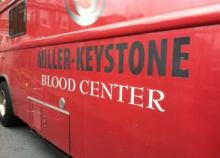 Signing up to donate blood is one of the easiest ways that you can give back to your community and help save a life! The Landis Center is excited to sponsor an interim coach drive with Miller Keystone Blood Center. 
Join us on Thursday, January 16th between 9:00am and 5:00pm on the corner of High and Hamilton Streets.  Registration will take place in the lobby of the Williams Center for the Arts. 
Sign up using the link below and the sponsor code 4022!
https://donor.giveapint.org/donor/schedules/sponsor_code
Check out the MKBC website for more information about blood donation:  https://www.giveapint.org/ask-mkbc/#ufaq-faq-category-body-234
Thank you for your continued support!