When:
Saturday, November 9, 2019 -

5:30pm

-

7:00pm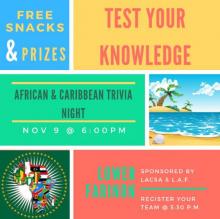 WHAT: African and Caribbean Trivia Night
WHERE: Lower Farinon
WHEN: Saturday, November 9th @ 6pm
[Teams registration begins @ 5:30pm]

Rules: You will need to have a team of 3 - 5 students, professors or staff.  Answer all the questions right and win a prize, ranging for Lafayette merchandise to cultural flags, and bracelets.
Types of Trivia Question: General knowledge, identifying artists, countries, flags, and whole lot more fun.