When:
Saturday, November 9, 2019 -

7:00pm

-

9:00pm
Presenter:
Caribbean African Dance Club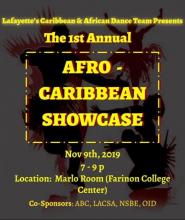 This event is an Afro-Caribbean Fest in which students get to showcase the different cultural arts of the Caribbean and Africa. Performers within LVIAC will get a chance to perform a piece representative of Caribbean/African culture -- whether that be through dance, song, poetry, and/or fashion. Afterwards, they will get an opportunity to experience the Caribbean through their taste buds with some staple Caribbean delicacies. The goal of the AfroCaribbean Showcase is to promote visibility of African and Caribbean culture.