When:
Sunday, November 10, 2019 -

3:00pm

-

5:30pm
Where:
Kirby Hall for Civil Rights, Room 104/Lafayette Campus
Presenter:
Milena K. Berestko and Flor de Maria S. Cáceres Godoy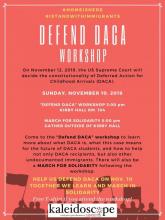 On November 12, 2019, the US Supreme Court will decide the constitutionality of Deffered Action for Childchood Arrivals (DACA) 
Come to 'Defend DACA' workshop to learn more about what DACA is, what this means for the future of DACA students, and how to help not only DACA recipients, but also other undocumented immigrants. There will also be a MARCH FOR SOLIDARITY following the workshop. 
Help us defend DACA. Together we learn and march in solidarity. 
Free T-shirts for those who attend the workshop!